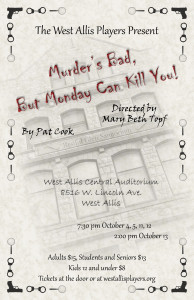 Murder's Bad, But Monday Can Kill You
by Pat Cook

Harry Monday is back!
That wise-cracking, Sam Spade wannabe detective
who still somehow gets the job done.
directed by Mary Beth Topf
Auditions: August 12 & 13, 2019
West Allis Central High School
6:30 doors open
7:00 start
Performances October 4, 5, 11, 12, & 13
Auditions will consist of improvs and readings from the script.
Performances will be held at
West Allis Central Auditorium
8516 W Lincoln Ave, West Allis
See Home page for ticket information